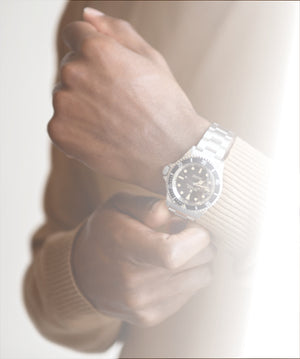 BUCHROEDERS BUYING DIVISION
What Is Your Rolex Worth?
Buchroeders has the most extensive inventory of pre-owned Rolexes in the Midwest. Because of our connection to Rolex buyers, retailers, and collectors, we can give you the most for your Rolex. So if you want to sell your Rolex or trade it in for something new, there is no better place in Missouri to go than Buchroeders.
Rolex Buyer In Columbia, MO.
If you are searching for a Rolex buyer in Missouri, it is important to do your research before selling your Rolex to just any buyer. Many people might be tempted to sell their Rolex to a pawn shop or other traditional Rolex buyers. However, these places will often offer you less money than the watch's worth. Therefore, asking questions and ensuring that you deal with a knowledgeable and experienced Rolex buyer is essential. Researching and finding a reputable buyer will ensure that you get the most money for your watch.
Is this Rolex buyer trustworthy?
You may trust your traditional pawn shops or small mom-and-pop jewelry stores; trust is necessary when finding a Rolex buyer. However, these conventional Rolex buyers need more resources, connections, and expertise to provide an accurate offer when they want to sell your Rolex. This is not the fault of the local Rolex buyer but rather just the need for in-depth knowledge of the Rolex secondary market. The key difference in worthing with Buchroeders instead of a traditional Rolex buyer is that Buchroeders focuses on a few things and are true experts on those items. We know everything about a limited quantity of items, whereas a pawn show knows very little about many things.
You will want to ensure that you are working with a reputable Rolex buyer with experience buying and selling luxury watches. When looking for a buyer, ensure they have good reviews and testimonials from previous clients.
Because Buchroeders has the most extensive inventory of pre-owned Rolex in Missouri, you can rest assured you are working with true Rolex experts. Our sister company, Diamond Banc, is comprised of Rolex buyers nationwide. We buy, sell, and trade hundreds of thousands of dollars a month in Rolex alone. In addition, we communicate daily with other Rolex buyers and experts worldwide and have infinite connections to ensure we provide you with transparent and accurate information.
When it comes to pre-owned Rolex, a Rolex buyer is looking at the condition and model of the watch, the value in the secondary market, and the specific supply and demand for your Rolex.
At Buchroeders, our expert Rolex buyers look for every value-adding feature on your Rolex.
Although we are traditionally known as Missouri's top-rated retail jeweler, we are also a pre-owned Rolex powerhouse. With our expansive Rolex inventory and connections to Rolex buyers locally and globally, there is no better place to sell your Rolex than Buchroeders.
Reasons To Sell Your Rolex
Your Rolex no longer matches your style or tastes
There is a new Rolex on the market you are interested in purchasing
You want to liquidate the asset
The value of your used Rolex has increased on the secondary market
Your used Rolex is damaged or in need of repairs 
You find an offer for your used Rolex that is too good to pass up
Whatever the reason for selling your Rolex, Buchroeders offers a complimentary and commitment-free evaluation of your used Rolex. You will never be pressured to sell your Rolex if you decide to keep your Rolex after getting an offer.
Suppose you are looking for a Rolex buyer and are new to selling your Rolex. In that case, you may need to be made aware of if your watch is desirable and what features of your Rolex either appreciate or depreciate the value of your Rolex.
Because the value of used Rolex watches is driven by supply and demand on the secondary market, certain desirable features add to the value of your used Rolex. For example, all-steel and two-toned Rolex models always have the best value retention on the secondary market. On the other hand, all-gold Rolex models are traditionally at a higher purchase price, but they see more fluctuation in value on the pre-owned Rolex market.
You may be surprised that your vintage Rolex will see a higher price on the secondary market. This is because many older models appreciate over time.
Just as the market value of gold fluctuates, so does the value of your Rolex. For example, 2021 saw an all-time high demand for used Rolex watches. In addition, experts estimate that the pre-owned Rolex and luxury watch market will continue to increase demand and prices over the next year.
Market imbalances are generally short-lived, so considering the current state of the luxury watch market when you decide to sell your Rolex is essential.
Do Rolex Buyers Want Damaged Rolexes?
Due to Rolexes being such a specific and highly desired item, countless factors will contribute to the value of your used Rolex. For example, as you wear your Rolex, the bracelet will stretch over time. Frequently, Rolex owners may opt to get their bracelets fixed or replaced.
Factory Parts VS. After-Market Parts
At the time, this may seem like the logical next step in maintaining the integrity of your Rolex. However, this can harm the value of your Rolex on the secondary market. When buying a Rolex, or any luxury item, the item's integrity and genuine-make are highly valuable. Replacing any piece of your Rolex can depreciate the value of your Rolex because it is a non-genuine feature of your timepiece.
When it comes to selling your Rolex and finding a respectable Rolex buyer, any original documentation you have for your Rolex is considered valuable.
Rolex buyers look at the condition of your watch and what you have in addition to the watch itself. Therefore, a used Rolex watch with original papers, a Rolex box, a warranty, and an original receipt can significantly impact the value of your Rolex when it comes time to find out what your watch is worth.
If you have a vintage model, discontinued, or sports model Rolex with original papers, Rolex buyers are willing to pay a significant amount because these documents prove the watch's authenticity and credibility.
Suppose there is any damage to a Rolex. In that case, any expert Rolex buyer can identify its worth and look beyond what most amateur Rolex buyers would consider to be a damaged, worthless Rolex. If you want to sell a Rolex, even a broken one, a Rolex buyer is ready and willing to buy your Rolex.

What Is The Best Way To Sell My Rolex?
When researching your Rolex, you will run into what we call "bait" sellers who work in the secondary market by initially offering high buyout prices for your Rolex watch and then paying a much lower amount once they receive your watch.
The Buchroeders Difference:
Buchroeders will always honor our quotes. We respect your time and value providing you with a transparent and stress-free Rolex selling experience.
Selling your Rolex should be a pleasurable and straightforward experience. Buchroeders adheres to a customer-driven approach and relies heavily on market data to generate our offers for used Rolex. At Buchroeders, you will experience a transparent and no-pressure selling experience. Luxury as it should be.
Trade my Rolex
If you are in the market for a new Rolex, trading your Rolex with one of our in-stock Rolexes is an excellent option.
Why would you trade in your Rolex instead of just selling it? Trading your luxury items can maximize the return on your initial investment.
Rolexes and other luxury items retain their value in the secondary market. So if you want something new but also want to maintain the value of an item, the best thing to do is trade it in.
Sell My Rolex
If it's time to part with your Rolex, selling your Rolex is a great option to access the capital in your asset.
Selling is the best option for you. This is one of the many benefits of purchasing a luxury item. In addition, your Rolex retains value and may even appreciate from your time of purchase.
Buchroeders acquires dozens of Rolexes monthly. Therefore, we are always looking to buy your Rolex.
Buchroeders Jewelers frequently purchase Rolex watches from clients in the following areas:
If you're ready to sell your Rolex in Missouri or anywhere in the midwest, Buchroeders will be your most transparent and reliable option. Buchroeders buying division extends all over the country and is not limited to mid-Missouri and Boone County.
This is a major advantage for our clients looking to purchase or sell their Rolex. We have established a diverse and extensive network of Rolex buyers, dealers, retailers, and Rolex collectors over our 120+ years of experience. This is what gives us the unique ability to pay you more for your Rolex.
Boone, Callaway, Camden, Cass, Chariton, Cole, Cooper, Gasconade, Howard, Jackson, Jefferson, Johnson, Lafayette, Lincoln, Pettis, Macon, Miller, Moniteau, Montgomery, Morgan, Osage, Randolph, Saline, St. Charles, St. Louis, and Warren County.