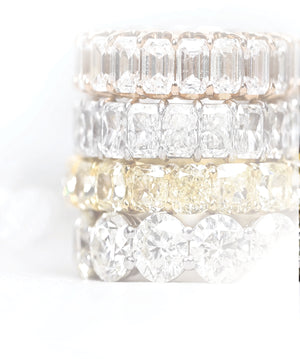 Your Trusted diamond buyer
BUCHROEDERS BUYING DIVISION
Diamonds Are Hard...
But selling your diamond doesn't have to me! With over a century of experience in the diamond industry, Buchroeders doesn't just claim to give you the most for your diamond, we prove it. We compare your diamond to similar diamonds live on the largest dealer-to-dealer platform and show why we can pay a particular payout.
#1 Diamond Buyer in Missouri
Navigating how to sell your diamond can feel overwhelming. We often want to sell a used couch or old camera, but finding a buyer for something as valuable and complex as a diamond is more complicated than the ladder.
Finding a diamond buyer you can trust takes research, and it's important to be mindful of your diamond's value. Unfortunately, most of us cannot look at an old engagement ring and break down the cost and value of that item. Luckily, Buchroeders is the source you can trust when looking for a diamond buyer in Columbia, MO.
With over 120 years of experience in the diamond and jewelry industries, Buchroeders is the expert diamond buyer in Columbia, Mo. When you look for a diamond buyer, Family Pawn will happily take your diamond and give you a payout, but they do not have the expertise to provide your diamond's actual value.
Traditional diamond buyers like pawn shops or other jewelry stores aren't trying to undercut you intentionally with your diamond rings or jewelry. However, they lack the resources and knowledge to evaluate your diamond correctly.
The key advantage to using Buchroeders as your diamond buyer is the level of knowledge they have about your diamond or designer jewelry. When you work with a local pawn shop, you are working with someone who knows a little about many different things. When you work with an expert diamond buyer, you are working with someone who knows everything about a few things. Our sole focus is evaluating diamonds, luxury watches, and fine jewelry. Because of this advantage, we can offer you premiums when you choose to sell your diamond.
What To Look For In A Diamond Buyer:
Diamonds and fine jewelry are highly specialized products. Therefore, ensuring that your diamond buyer is a diamond expert is important.
Suppose you have an inherited diamond engagement ring or an old diamond wedding band you no longer want. In that case, you should seek a professional diamond buyer with knowledge of the products you sell.
All Buchroeders diamond buyers are guided by the GIA grading scales and can accurately evaluate your diamond with the highest quality in grading. In addition, our diamond buyers are familiar with designer brands and fine jewelry and understand what your diamond jewelry is worth on the secondary market, with multiple factors being accounted for.
Our diamond buyers work only with the GIA grading scale because the GIA standards are the highest worldwide. Using the strictest standards ensures that you will get the most from your diamond jewelry. If your diamond is not certified, that's okay! Buchroeders Buying Division will still purchase your diamond without a GIA certification.
However, if your diamond is already certified by the GIA, your papers can add significant value when selling your diamond, and we encourage you to bring in your certifications when you come to Buchroeders to sell your diamond.
How Do I Know What My Diamond Is Worth?
Before you select a diamond buyer, it is wise to educate yourself on your diamond and its worth.
When selling your diamond, it is important to know the difference between appraisal value versus liquid value versus its retail value. Understanding the difference between these values is critical in understanding why your diamond is worth what it's worth.
The appraisal value of a diamond is what the cost would be to replace that diamond with a diamond of similar carat weight, cut, color, and clarity. Often, an appraisal value is higher than a retail value. For example, Buchroeders recently sold a beautiful 5CT Cushion Cut Diamond Engagement Ring. This ring retailed at $25,000, but its appraisal value was $37,000. This is because replacing this particular engagement ring would cost $37,000.
A diamond's liquid value is what it is worth if there is no brand attached to it. This is an important factor because when you have designer pieces, those items have a higher retail value based on the designer name attached to them.
Let's look at an example. A client of our sister company, Diamond Banc, purchased a 3.8CT Tiffany & Co. engagement ring. At Tiffany & Co., this engagement ring retailed for $187,000. A diamond with similar cut, clarity, and carat weight is valued on the largest dealer-to-dealer diamond platform in the world at $60,000. The retail value of this engagement ring is astronomically high because it is associated with Tiffany & Co., but its liquid value is around $60,000. Replacing the diamond in this ring would cost roughly $60,000. We were able to purchase this diamond for $40,000. That's over 65% of the liquid value of that diamond.
Natural Diamonds VS Lab-Grown Diamonds:
With a traditional diamond buyer, you'd be lucky to get around 25%-50% of the diamond liquid value, but this only applies to natural diamonds.
Over the past decade, we've seen an increased demand for lab-grown diamonds. At Buchroeders, we carry natural and lab-grown diamonds, but we only buy natural diamonds back and cover them with our Gotta Love It Guarantee.
Why is this? Aren't lab-grown diamonds real? Lab-grown diamonds are considered real diamonds, but there is no limit to the amount of lab-grown diamonds that can be produced. Natural diamonds are finite. What we have now on earth is all that we will ever have.
Diamonds are priced on rarity, and since there is no limit to how many lab-grown diamonds we can produce, they do not retain any value.
Our diamond buyers will appraise the value of your diamond through a traditional diamond grading process. Grading diamonds is a skilled process that does require an expert and specific technology to produce an accurate result. However, anyone can still be educated on their diamond before finding a diamond buyer.
A Transparent Diamond Buyer In Columbia, MO
At Buchroeders, transparency is the only way to serve as your diamond buyer. We understand that jewelry not only holds monetary value but can also hold a deep sentimental value or represent part of one's family heritage.
With over a century of experience in the jewelry industry, Buchroeders has an outstanding reputation in Columbia, MO, and Missouri. Selling your diamond should feel as fulfilling as the day you purchased it.
When you sell your diamond with Buchroeders, you will receive an unmatched transparent experience. We provide this transparency by showing our clients the market value of similar diamonds at the time of selling. In addition, Buchroeders diamond buyers will offer similar diamonds on the largest online dealer-to-dealer diamond source. On this platform, there are generally about $9 billion in diamonds for sale at any time.
Buchroeders represents over 20K of the world's finest retailers, collectors, and dealers and buy with the goal of selling your diamond to its end consumer. Buchroeders buying division does not want to purchase your diamond to sell it to another retailer. Different diamonds are worth more to different retailers and collectors, and we ideally want your diamond to end up with a consumer who will pay a premium price which we can then pass on to you. As diamond lovers, we want to find a diamond buyer that appreciates your diamond, not just pass it off to another retailer.
Because of how we evaluate the value of your diamond, we can walk you through exactly how we were able to produce a specific payout. This is where Buchroeders Buying Division is different from traditional diamond buyers. Any diamond buyer can claim they will offer you the highest payout for your diamond, but few can show you that they do.
Buchroeders Buying Division offers a complimentary, no-strings-attached diamond appraisal. Our diamond buyers will never pressure you to sell your diamond because you are given a quote or ask for your diamond to be evaluated.
Selling your diamond can be a process that takes time, and we encourage you to look at other diamond buyers in the area to make sure you are getting the best payout for your diamond.
What Is A Diamond Buyer Looking For?
If you are looking for a diamond buyer, you might also have questions about what diamond buyers will purchase. A simple answer is that it is always a good idea to visit us and bring all of your diamond jewelry, but there are a few general guidelines we look for when selling your diamond.
Buchroeders diamond buyers always actively seek diamonds of any shape that are 0.5CT or larger. Additionally, our diamond buyers are interested in certified and non-certified diamonds, and our buyers will always offer premiums on any diamond 2ct or larger.
Buchroeders diamond buyers are also always interested in purchasing diamonds from engagement rings or designer jewelry from designers such as Tiffany & Co., Cartier, Graff, David Yurman, Harry Winston, and more.
In addition to diamonds, our jewelry buyers are experts in buying unwanted jewelry, gold and silver jewelry or scrap, designer jewelry and luxury watches such as Rolex.
Get The Most From Selling Your Diamond And Have A Luxurious Experience
Who you do business with determines your experience's outcome and payout results. At Buchroeders, we want everyone to experience a high-end, luxury experience. So whether you are purchasing an engagement ring or selling one, Buchroeders will greet you and provide you with first-class customer service.
Selling your diamond should be a positive experience you walk away from with confidence that you are getting the best value. Our diamond buyers are dedicated to providing you with service you can count on and transparency from start to finish.
Buchroeders Diamond Buyers Serve Boone County And The Greater Midwest
For anyone looking to sell their diamond in Missouri or the Midwest, Buchroeders is the place you can trust. With over 120 years of experience, Buchroeders has an unmatched reputation in the diamond and jewelry industry. Our reach extends far beyond Boone Country because of our expertise and connections. We are happy to assist anyone in Missouri looking for a diamond buyer they can trust.
Buchroeders diamond buyers serve the following, but is not limited to the following counties Boone, Callaway, Camden, Cass, Chariton, Cole, Cooper, Gasconade, Howard, Jackson, Jefferson, Johnson, Lafayette, Lincoln, Pettis, Macon, Miller,Moniteau, Montgomery, Morgan, Osage, Randolph, Saline, St. Charles, St. Louis, and Warren County.